The Band
Marc Strand - Trumpet/Vocals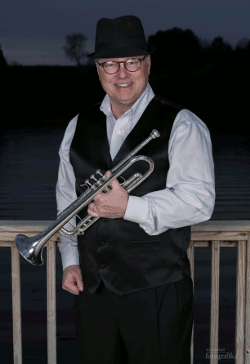 Marc Strand, trumpet player, started playing trumpet in the school band at age 10. Fell in love with it and has never been able to put it down. He played the typical marching band and concert band in high school and college. He played in a small three piece combo in graduate school to make a little pizza money. He is currently the orchestra director for Higher Ground Baptist Church. He plays with the Has Beens and has conducted several events in the Tri-Cities including the Liberty Celebrations, The Sound of Music this past year for North East State, and the Bristol Passion Play. His day job is as a Research Chemist for Eastman Chemical Company. "Playing with Big Band Theory is about as much fun playing music as anyone should be allowed to have. It sure helps that some of my kids are singing with us."
John Evans - Bass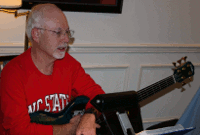 Another true Carolina Calabash boy, Mr. Evans was inspired by regional bands such as The Embers, The Catalinas, The Monzas, and the Fabulous Five. After a fateful teen summer party in the summer of 1961 lit a fire for the instrument in his heart, John learned to play guitar on a 3/4 steel string instrument, complete with a graphic of cowboys singing around the campfire on top. Several guitars, friends, and homemade amplifiers later, John found himself playing $50 gigs (for the whole band!) at the local YMCA and even played backup for the Tommy Dorsey Orchestra on one occasion. Delving into the 60's music scene with groups like The Beatles, Herman's Hermits, The Kinks, The Rolling Stones, The Beach Boys, Jay and the Americans, and The Association, John later branched out and embraced the edgy sounds of other groups as well, like King Crimson, Grand Funk Railroad, the Who, and Led Zeppelin. After moving to Kingsport, Tennessee in 1973, he discovered classical guitar and synthesizers. A multi-talented individual, John Evans can be seen playing lead guitar licks with Bag a'Cats, laying a solid bass line for the big band group The Has Beens, playing guitar at his church, or teaching classical guitar in his home.
Jon Lawniczak - Drums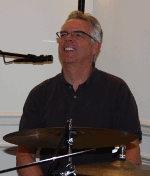 Jon Lawniczak began his drumming career in Detroit playing for cutting-edge rock bands, TRAINABLE, IT PLAY, and the LAYABOUTS. Since moving to Kingsport TN, he has played with the HASBEENS, Brim Leal, Patty Quarles Band, and BIG BAND THEORY.
Patti Quarles - Keyboards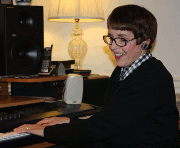 Patti Quarles is a keyboardist, vocalist, and songwriter who has lived in Kingsport for fifteen years. Born in Chicago, Il., Patti grew up in the Tidewater area of Va. and later England. She has performed on several South Carolina television shows and donated her talents to the March of Dimes and Cancer Research Benefits, Arts Councils,United Way, Christian Women's Club, schools and nursing homes. She also accompanies middle and highschool choirs, and Gospel artists including Carla Karst of Billy Grahm and Franklin Grahm Crusades,and Starla Harbin who sings for the ministry of Dr. Charles Stanley. Patti is also a church pianist and has been the pianist for Kingsport's Liberty Celebration.
Bryan Brewster - Saxophone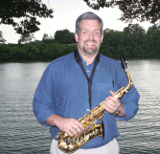 Bryan Brewster has been playing the saxophone for 30 years. From the age of 10, playing the Sax in church with his mom, to playing for thousands at places around the world, the Music, and his Saxophone have been his life. Born and raised in Kingsport, with a Bachelors Degree in Music (Performance) from East Tennessee State University, Bryan has played in such countries as Mexico, Ireland, and England, to touring the Caribbean playing for Carnival Cruise Lines. He has been there and done it all! From Classical, to Broadway, to Jazz, to Rock, Bryan has played in many types of musical genres. He is currently playkng Lead Tenor Sax for "The Has Beens" big band orchestra. Bryan is very fluent on Alto, Tenor, and Soprano Sax. "First, I want to thank God for blessing me with all that he has proviced. I also wanna thank the people that have influenced me throughout my life in music. Thanks to Marc and the BBT for giving me the opportunity to share my talents with you. I'm ready to have some fun, and pla a lot of music!!!"
Sarah Strand - Vocals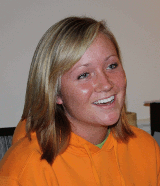 Wonderful alto tones from this member of a very musical family
Byron Lawrence - Trombone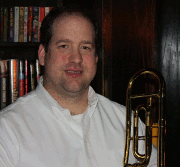 Enjoys playing trombone in my spare time. I went to Sullivan South, and enjoyed my college days at Tennessee Tech. Played trombone through high school and college. I currently work at Dentsply in Johnson City. I currently play trombone with the Indian Springs Baptist Church Orchestra and now BIG BAND THEORY, and I also participate playing trombone for the HAS BEENS (which on most occasions, I am the youngest member), and The Liberty Celebration. I am married and the joys of my life are my family, and my (2) young kids keep me busy!
Joey Porche - Guitar/Bass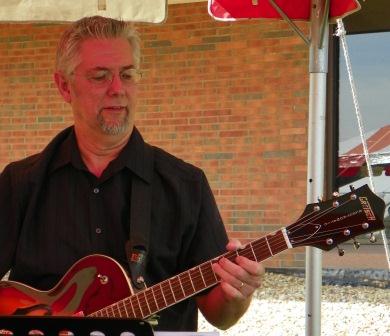 Growing up in a musical family near New Orleans, Joey Porche has always been exposed to many styles and genres of music. His early memories recall living room "jam sessions" with family friends, parents and siblings singing and/or making music. Though his parents enjoyed predominantly country-western, his early interest was in rock and blues; however, over the years, Joey's musical journey has taken him to bluegrass, motown, cajun, contemporary Christian, todays country, among others. Joey's primary instruments are acoustic, electric and bass guitars, but "plays around" with several different instruments including banjo, lap steel, mandolin, piano, organ, harmonica, trumpet, autoharp and will try just about anything else he can get his hands on. Joey is married to his best friend and has three grown children, loves life and the Lord; his whole clan is musically talented and enjoy life to the fullest! He's an IT Geek by day and a music-a-holic by night! He loves his involvement with Big Band Theory and is more apt to say "yes" to just about any musical opportunities that comes along; his enthusiasm tastefully tempered by the Godly wisdom of a lovely and discerning bride.
Jeff Summers - Guitar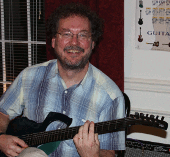 Jazz guitar since high school in the '70s, Jeff also has experience with mixing, recording, and does some of our arrangements. He plays guitar for Higher Ground and Liberty Celebration. His day job is as an academic physician with ETSU